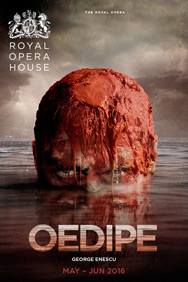 Oedipe
Sur Royal Opera House
Prix à partir de € 129.30
An excellent cast including Johan Reuter, John Tomlinson, Sarah Connolly and Sophie Bevan perform The Royal Opera's first production of Enescu's operatic masterpiece, directed by acclaimed Catalan company La Fura dels Baus. Oedipe is destined to murder his father and marry his mother. His parents arrange for his murder but instead he is raised as a prince of Corinth. Discovering the prophecy, he flees Corinth - only unwittingly to kill his true father and marry his mother. After 20 years the truth is discovered. Oedipe blinds himself and his wife/mother commits suicide. He wanders the wilderness. At a grove outside Athens he discovers his final resting place and disappears in a blaze of light.
Informations sur le lieu
Informations sur le spectacle
Booking from
2016-05-30
Booking to
2016-06-08
Durée du spectacle:
3 hours
Itinéraire

(3 mins) The Royal Opera House is off Covent Garden piazza, which is visible from the tube station exit. There is a revolving door entrance at the piazza.

Regardez la carte