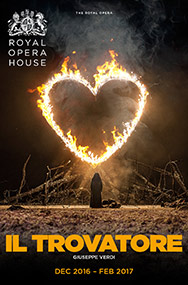 Il Trovatore
Sur Royal Opera House
Prix à partir de € 248.20
The first revival of David Bösch's new production for The Royal Opera, with two casts including Maria Agresta, Lianna Haroutounian and Anita Rachvelishvili. The Count di Luna loves Leonora, but she loves Manrico, the Count's military enemy. Manrico's mother Azucena tells him how her mother was burnt to death for supposed witchcraft against the Count's baby brother. Azucena intended to throw the baby onto the fire – but blinded by revenge she lost her own child to the flames. The Count captures Manrico and Azucena. Leonora promises herself to him if he will give them their freedom, but secretly takes poison. Leonora dies in Manrico's arms. The Count has Manrico executed. Azucena reveals that her mother is finally avenged: the Count has murdered his own brother.
Informations sur le lieu
Informations sur le spectacle
Réservation à partir du :
2017-02-06
Booking to
2017-02-06
Durée du spectacle:
2 hours 55 minutes
Itinéraire

(3 mins) The Royal Opera House is off Covent Garden piazza, which is visible from the tube station exit. There is a revolving door entrance at the piazza.

Regardez la carte