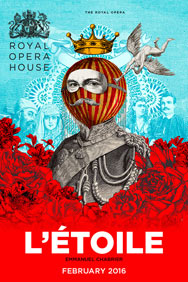 L'Etoile
Sur Royal Opera House
Prix à partir de € 140.20
Beneath L'Etoile's bafflingly ridiculous plot there is music of tremendous craft, imagination and beauty – with an extra serving of extremely dark humour. Lyrical moments, such as 'O petite étoile' where Lazuli thanks his lucky star, sit amid a fabulous array of raucously imaginative comedy: highlights include the 'Trio de chatouillement' (Tickling Trio); the 'Duetto de la Chartreuse verte', as Ouf and Siroco fortify themselves with the green liqueur; and the disconcertingly catchy 'Couplets de pal', where Ouf sings of his love of impaling people. Mariame Clément (Don Pasquale at Glyndebourne) makes her Royal Opera debut with this new production, which brings to life Chabrier's surreal and lovely world.
King Ouf I always celebrates his birthday with a public impalement and has gone in disguise among his people to find a suitable victim. The forthright young pedlar Lazuli has just fallen in love with Princess Laoula (also in disguise) and is appalled to learn she is already betrothed, to Ouf. Unknowingly Lazuli insults Ouf, who thinks he has found his candidate – until court astrologer Siroco reveals that the stars of Lazuli and Ouf are so closely bound that if Lazuli dies so will Ouf. Lazuli is instead brought to the palace to be pampered.
The ambassador Hérisson de Porc-Epic, jealous of Lazuli's love for Laoula, makes an attempt on Lazuli's life. Lazuli survives, but Ouf is terrified of what might have happened. Ouf gives his blessing to Laoula and Lazuli's marriage and declares that the couple will succeed him.
Informations sur le lieu
Informations sur le spectacle
Booking from
2016-02-24
Booking to
2016-02-24
Durée du spectacle:
TBC
Itinéraire

(3 mins) The Royal Opera House is off Covent Garden piazza, which is visible from the tube station exit. There is a revolving door entrance at the piazza.

Regardez la carte